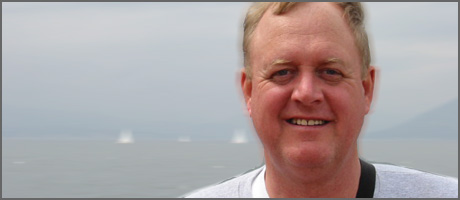 MEET THE ARTIST
Larry DeLacretaz is a native Oklahoman (ask him about the OU Sooners someday) who moved to El Paso, Texas with his wife Cheryl and three children (Nathan, Vanessa, and Ryan) in 1985. He and Cheryl – both accomplished, retired teachers – moved to Austin in 1997.
Got questions about Alamosaics, want to commission a piece, or just want to say hello? You can email LD at:
delacretaz [at] sbcglobal [dot] net
THE ALAMOSAICS STORY
In the Fall of 1996, Larry — then a 7th grade Texas history teacher by day — noticed the giant heap of woodscraps outside the shop class area at his El Paso, TX school. He asked the woodshop teacher what the school did with all the scraps; the teacher replied that they were usually hauled off and burned. Thinking he could surely come up with something to do with the scraps, Larry salvaged them and took them home to contemplate a project.
Larry used those original scraps to construct a mosaic of San Antonio's historic Alamo, which he used as a visual/discussion piece in his Texas History class.
Larry's wife Cheryl asked one day if he might be able to do a face using his mosaic technique. "Sure," he said. Then, Larry (a major Beatles enthusiast) constructed a John Lennon face using an early album photo as a guide. A local record store owner saw the piece and immediately requested that Larry put together mosaics of the remaining three Beatles — the store owner then snatched up the set of four mosaics for display in his store. [note: they can likely still be seen in All That Music on Lee Trevino Dr. in El Paso]
The many positive responses to Larry's work following this first sale led him to set up his own small business. Remembering his first work, the Alamo, he named his business and unusual technique "Alamosaics"…